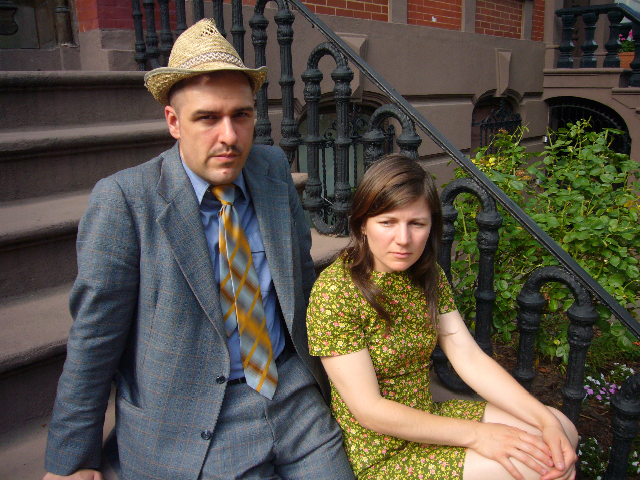 One of the new-ish bands that I have been lstening to a lot is the Welcome Wagon, which is the married duo of Thomas Vito and Monique Aiuto.  Their first set is called Welcome to the Welcome Wagon, which Sufjan Stevens produced and helped arrange.
In their press materials, the duo's label notes:
A self-described agnostic, Vito experienced a spiritual conversion at the age of 20 and soon after enrolled at Princeton Theological Seminary to study theology and prepare for ordained ministry. Currently he is the senior pastor of Resurrection Presbyterian Church, a church he planted in Williamsburg, Brooklyn, NY, in 2005.
In an interview A New Church Plant In Williamsburg Brooklyn , Vito share some more about Resurrection Presbyterian Church:
How must the gospel be appropriately contextualized to reach people in Williamsburg?
Two things come to mind: an emphasis on community and an emphasis on service. On community, we are seeking to establish tight networks of friendship and service so that to be a part of this means to be a part of family. The transient nature of life in NYC can be isolating for many people; we believe that to belong to God is to have a place in his family, the church. Regarding service, we understand that for our proclamation of the good news of Jesus to have any legitimacy in this milieu, it must be accompanied by lives that reflect that truth. Skepticism about Christian-ity is often skepticism about the actions of the church. We need our faith to be worked out in word and deed.
I really love this interview Vito did with Stereogum:
A big part of my job is blessing and serving the Eucharist. The Christian faith is imminently tied up in food -- right there at the center of Christian worship is God giving his people bread and wine, it's the whole Gospel summed up in a simple action. Christianity is a religion of feasting with God and neighbor.


Here's a taste of their work: